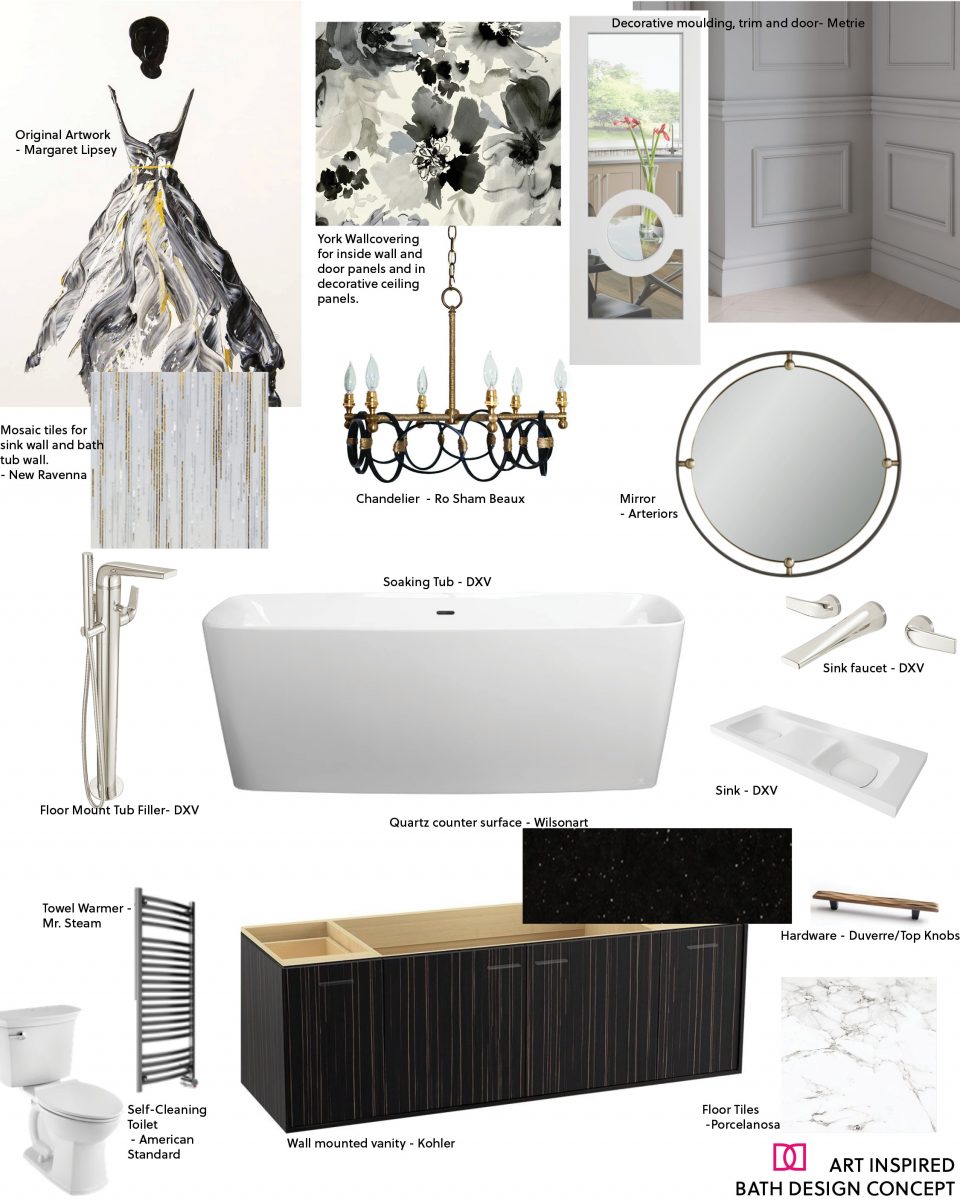 Design Resources for Kitchen Decor, Appliances and Plumbing Fixtures (from left to right): Margaret Lipsey artwork, York Wallcoverings'  Paper Muse "Aquarella" wallpaper in pearlescent white/blue/gray/taupe; Interior moulding and doors from "Fashion Forward" collection – Metrie; "Zebrano" mosaic – New Ravenna; Ro Sham Beaux "Claire" chandelier; "Janey" round mirror – Arteriors; DXV: "Modulus" floor mount tub filler, "Lyndon" freestanding soaking tub, "Modulus" wall-mount widespread faucet, and "Modulus" double bathroom sink; Wilsonart quartz surface in "Adastra"; Towel warmer from Broadway Collection – Mr. Steam; Kohler  "Jute" wall mount bathroom vanity in Ebony Velour;  "Forged 3" hardware  by Heinz Pfleger in Antique Brass – Duverre/Top Knobs; American Standard VorMax Collection ActiClean self-cleaning toilet and Porcelanosa "Calacata Silver Polished" porcelain tiles.
Art and Interior Design Fairs Inspire
In January, I visited several art fairs as well as the Kitchen and Bath Industry Show and at both I found boundless inspiration that I brought home.
I let those art and design influences swirl about in my head. I reviewed photos. I pored through press materials provided by art galleries, artists and design brands. I re-read my notes from events like one sponsored by Mr. Steam (They have changed the way I think about bath design and the importance of wellness starting at home.) and my vision for my dream bath began to form.
Seeking Serenity, Wellness and Escaping the Madness
I love the bold use of color and mixing traditional and contemporary design features to achieve a beautiful contrast with a harmonious tone. However, in two interior spaces, my penchant for vivacious, yet constrained, use of color goes out the window.  Those are bedrooms and baths that function primarily as serene, home sanctuaries (I do love lots of color in guest baths and some bedrooms – just not ones in which I seek contemplative calmness.).  In those spaces I prefer, soft colors, neutrals or a carefully tuned selection of black, white and gray.
My dream bath design has to be calming – a sacred space I can retreat to and escape from the stress that weighs heavily on my physical, mental and spiritual well-being.
Finding my design muse for that perfect bathroom design, seemed elusive for a while. Until I found the perfect inspiration piece  – artwork by Margaret Lipsey. Its ethereal elegance and timeless beauty rendered with exquisitely placed brush strokes of luxurious gold, grays, black and white, and imbued with a sense of minimalism captured my attention. I knew, at first sight, that the feeling I had when I saw that wonderful work of art – the lines, the elegance, the sense that style transcends time and space – was how I envisioned my dream bath.  A space that would be graceful, sophisticated, fashionable yet classical – Chanel-like.  With my aesthetic vision set, I created a design concept board (shared above) to capture the visual mood I wanted to convey.
I also plan on incorporating technologically innovative products like American Standards self-cleaning toilet  (a no-brainer, right?!)  and Mr. Steam's steam shower system. As I mentioned earlier, they changed how I think about how easy it is to bring spa-like wellness features home.  My future bath will have a steam shower feature that offers the stress reducing and healing benefits of steam (bye-bye sinus infections!), aromatherapy and chromatherapy. I'm currently working on a second design concept that includes a steam shower system- and is more like a true in-home spa retreat. Can't wait to share that with you soon.
Disclosure:  All opinions expressed in this post are all my own.  This is a sponsored post/branded content for  Blogtour KBIS sponsors: Modenus, DXV, Metrie, American Standard, Mr. Steam, and Wilsonart. We appreciate the generous sponsorship of design brands that support the Decorating Diva blog and make it possible for me to bring you, our wonderful readers, excellent design and lifestyle articles throughout the year.