Kitchen and Bath Industry Show – World of Inspiration
I was so excited when I returned home from the Kitchen and Bath Industry Show (KBIS) that was held in sunny Orlando in early January.
I wasn't the only one excited, either!
For the first time in a long time, and I've been covering these shows for a very long time – recording my first in 2009, this show was different. Optimism abounded and energy levels were through the roof.
Retail buyers and interior designers were enthusiastically placing orders, and vendors, of course, were eagerly accepting order after order. To say the home design, remodeling, and building construction markets are hot – driven by consumer demand, would be a bit of an understatement.
For me, with nearly a decade of covering this industry, this market was a harbinger ushering in an era of delightful exuberance and joy for all things home and happily for me, more specifically kitchen and bath. Which happen to be two spaces I'm currently dreaming and scheming about in anticipation of a remodel of my own at home.
Aside from the fantastic vibe pulsating across the KBIS trade show, the inspiration that flowed from exhibit to exhibit was other worldly! Design brands brought their "A Game" and if you follow my Instagram (which if you aren't, you should be 😁), you will take notice of some beyond fabulous visual merchandising designs that are SWEET eye candy! (By the way, I'm working on a post highlighting the best exhibit designs – make sure to check back soon.)
So, yes, I came back from KBIS super-inspired and primed to take all the great ideas and gorgeous kitchen and bath products I saw at the show and start dreaming up interior spaces that would make me happy at home.
Contemporary Art Inspired Kitchen Design
First up, the kitchen. A glamorous, contemporary kitchen design inspired by the beautiful collage art of artist Jay Kelly that I spied while covering the Miami Art and Design shows in December.
Art is like the blood that courses through my veins. I live on it. It truly brings my spirit to life. It's no surprise then, that it guided my aesthetic vision for my dream kitchen. Coupled with the innovative, technology driven and beautifully designed kitchen appliances and plumbing fixtures that I discovered at KBIS, Jay Kelly's "Luminous" was my design muse in creating the color-infusing, art inspired design concept shared above.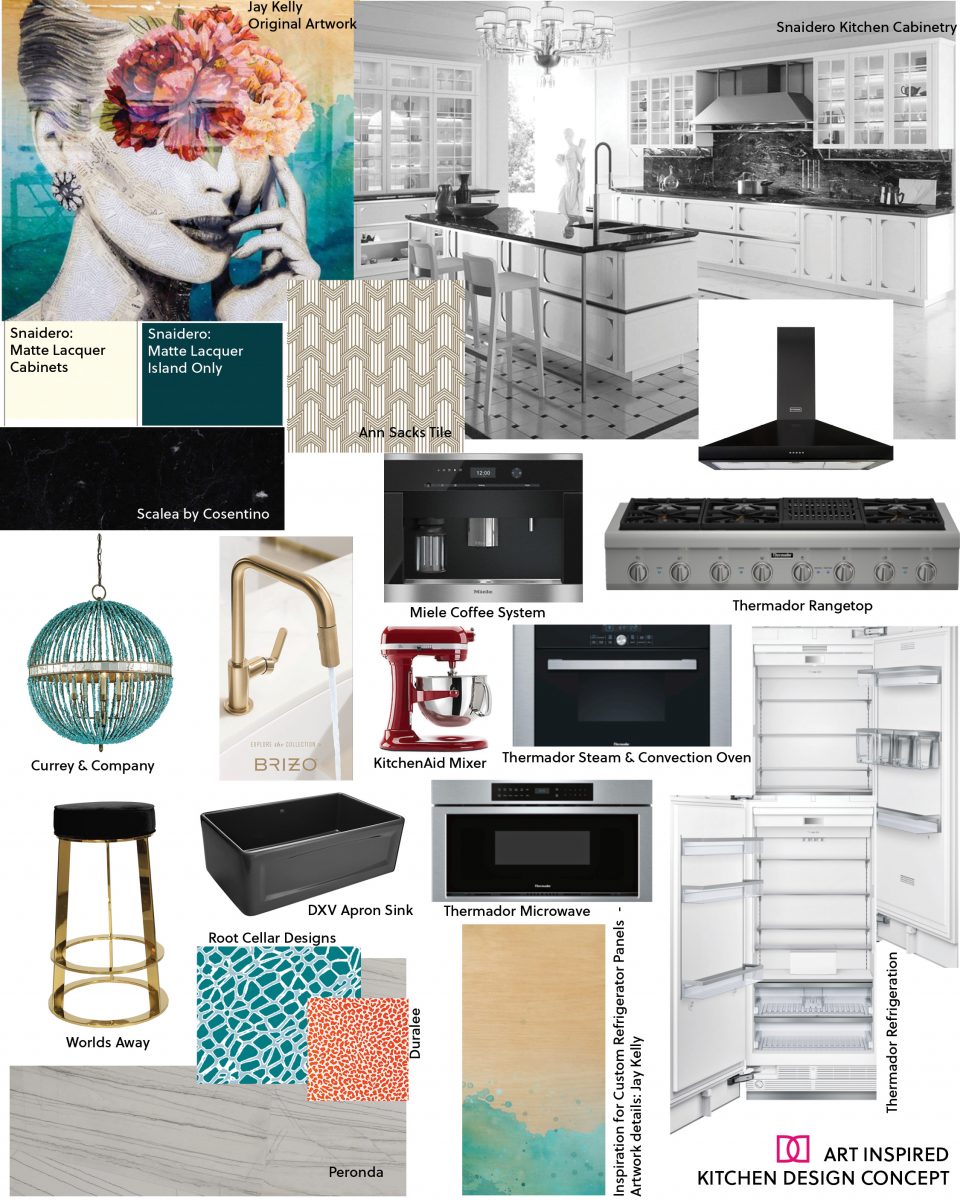 Design Resources for Kitchen Decor, Appliances and Plumbing Fixtures (from left to right): Jay Kelley "Luminous" art work at Axiom Contemporary Gallery; Ann Sacks "Ermanno" field tile in geometric pattern; Snaidero Cabinetry : "Kelly" by Massimo Iosa Ghini; "Scalea" by Cosentino; Miele Coffee Machine; Thermador 48 inch Professional Series Rangetop; Currey & Company "Alberto" orb chandelier; Brizo "Litze" pull-down faucet ; KitchenAid Professional 600 series mixer; Thermador Masterpiece series steam and convection oven; Themador New Freedom Refrigeration Collection – refrigerator and freezer columns with custom doors inspired by layered colors of Kelly's art; Worlds Away "Samson" brass bar stool to be upholstered in textile from Root Cellar Designs; DXV "Hillside" 30 inch apron kitchen sink"; Thermador 30 inch built-in MicroDrawer microwave; Root Cellar Designs fabric "Croc" in peacock sky; Duralee Clarke & Clarke "Lynx" fabric in sunset and "Santana" flooring by Peronda.
Disclosure: All opinions expressed in this post are all my own. This is a sponsored post/branded content for Blogtour KBIS sponsors: Modenus, Thermador, and DXV. We appreciate the generous sponsorship of design brands that support the Decorating Diva blog and make it possible for me to bring you, our wonderful readers, excellent design and lifestyle articles throughout the year.